The PC market collapsed during the fourth quarter of 2022, analysts said, with an unprecedented drop in sales due to inflation and other factors.
IDC reported that PC unit sales fell by 28.1 per cent to 67.2 million units, while Gartner said that sales fell by 28.5 per cent to 65.3 million units. According to Gartner, the drop is the largest since the firm began its PC coverage in the mid-1990s.
Analysts blamed a perfect storm of pandemic-related issues. The anticipation of a global recession, increased inflation, and higher interest rates have had a major impact on PC demand, said Mikako Kitagawa, the director analyst at Gartner.
Since many consumers already have relatively new PCs that were purchased during the pandemic, a lack of affordability is superseding any motivation to buy, causing consumer PC demand to drop to its lowest level in years.
Still, IDC noted that 2022 shipments were well above pre-pandemic levels at 292.3 million units for the full year.
Consumers bought up PCs at record rates in 2020 and 2021 but declined to upgrade those relatively new PCs.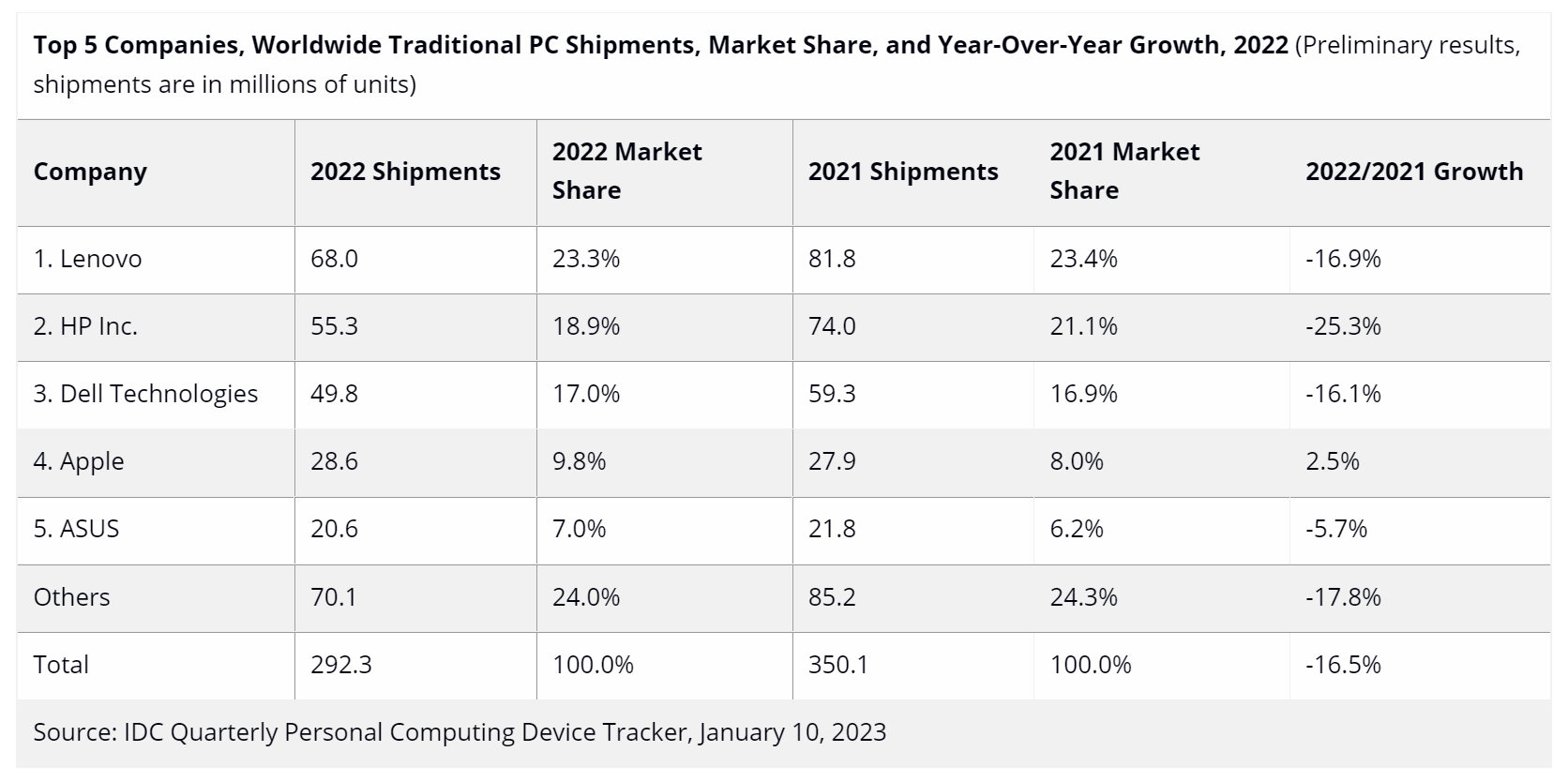 "Consecutive quarters of declines clearly paint a gloomy picture of the PC market, but this is really all about perception," said Ryan Reith, group vice president with IDC's Worldwide Mobility and Consumer Device Trackers, in a statement.
"2021 was near historic levels for PC shipments, so any comparison is going to be distorted. There's no question when we look back at this time that the rise and fall of the PC market will be one for the record books, but plenty of opportunity still lies ahead. We firmly believe the market has the potential to recover in 2024 and we also see pockets of opportunity throughout the remainder of 2023."
Both firms named Lenovo, HP, and Dell as the top three worldwide PC vendors for the fourth quarter, though all suffered drops in the number of PCs sold by almost 30 per cent.
Lenovo ended the year with a 23 per cent market share, followed by HP (19.6 per cent) and Dell (16.1 per cent), according to IDC.
Apple (7.5 per cent) and Asus (4.8 per cent) rounded out the top five, IDC said, though Gartner agreed with the rankings as well. Gartner believes that the decline in shipments will persist during 2023.
The U.S. PC market recorded its sixth straight quarter of declining shipments. HP, Dell, Apple, Lenovo, and Asus ended the year as the top five PC vendors.

Even as vendors offered deep PC discounts during the holiday season in an attempt to lower inventory, consumers were not swayed to spare their money, Kitagawa said.