If you're interested in building a Windows 10 PC running Windows 10, you'd better hurry — Microsoft will stop directly selling Windows 10 licences by the end of the month.
According to notices posted to the Windows 10 Home, Pro, and Workstation pages on Microsoft's site, Microsoft will halt digital downloads of Windows 10 on Jan. 31, 2023. While Microsoft will support Windows 10 for a few more years, Microsoft's decision means that you won't be able to buy a Windows 10 licence except through existing stores of licences at third-party retailers.
31 January 2023 will be the last day this Windows 10 download is offered for sale. Windows 10 will remain supported with security updates that help protect your PC from viruses, spyware, and other malware until October 14, 2025, Microsoft's Windows 10 Home product page says. Windows 10 Pro's product page says the same.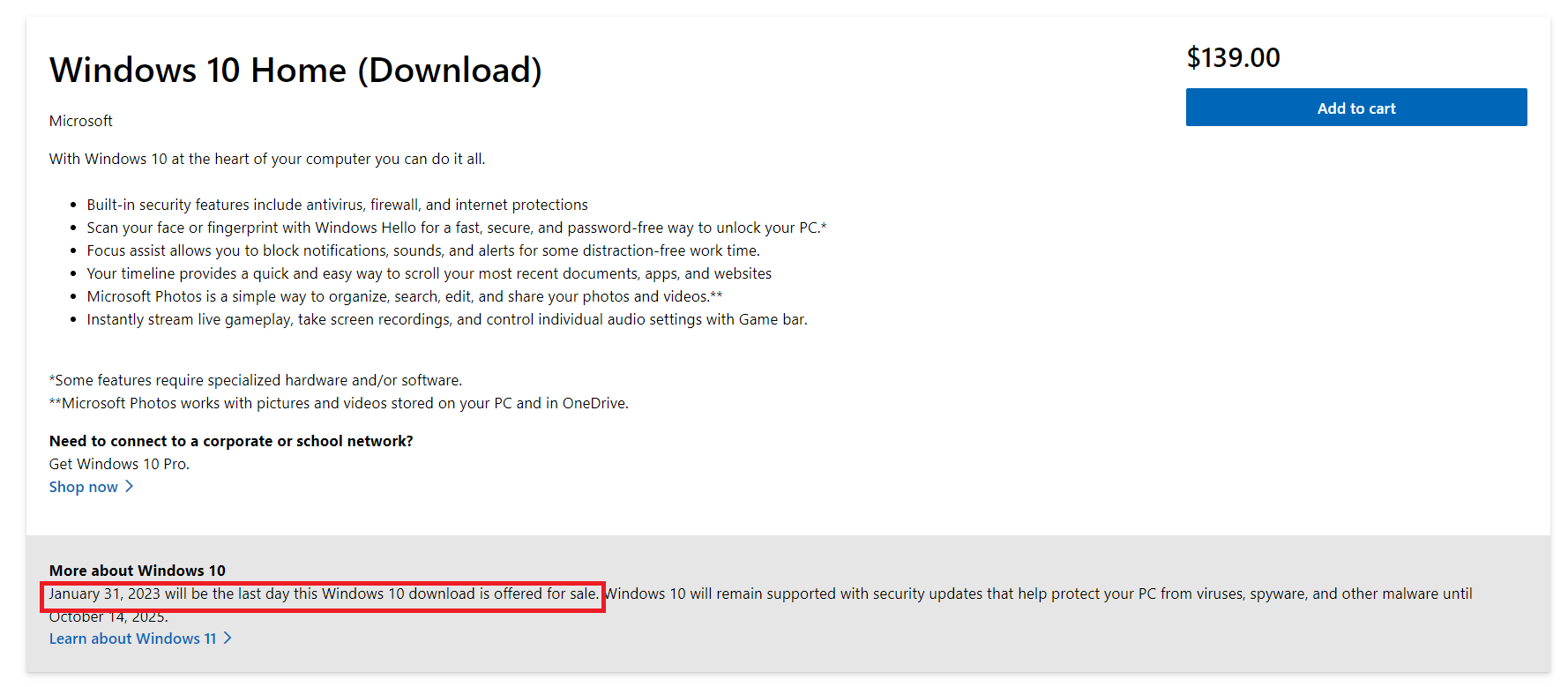 The elimination of the Windows 10 licence means that Windows 11 will not only be the operating system that Microsoft wants you to buy, it's also the only operating system that Microsoft will allow you you to buy. Naturally, Microsoft will encourage you to buy Windows 11 licences instead.
The alternative for those wishing to buy a Windows 10 licence will be to turn instead to third-party retailers. OEM copies of Windows 10 are still available at Amazon, although the Windows 10 product listing lacks any indication that Microsoft itself will soon stop selling Windows 10 licences. Microsoft's Media Creation Tool for Windows 10 also remains in place, for now.
Otherwise, Microsoft's decision means that you'll have to buy a Windows 10 licence from a third-party retailer. Fortunately, PCWorld's guide to buying Windows for cheap still holds valid — and will become more valuable as time runs out on Windows 10.
The bottom line, though, is this is bad news if you're a system builder or enthusiast, a fan of Windows 10 and someone who doesn't want to upgrade to Windows 11. Soon, you'll have even less choice about which operating system you'll use.